PAMIS Breaks
Holidays and Respite Breaks
PAMIS Breaks
We know how important a break away with the family can be and how limited the options are for families who need adapted accommodation. In 2018 we launched PAMIS Breaks after being kindly given a caravan at Haggerston Castle Park in Berwickshire, and the use of a beautiful Coach House in Aberfeldy. We have learnt a lot during this time and have listened closely to your feedback.
We offer 2,3 and 6 night breaks at these holiday venues. Why do we not offer a 7 night break? We want your holiday to be as relaxed as possible and to avoid the usual rush to get out of accommodation by 10am (or even earlier in some cases!) we cater for a later departure time of midday. This means that we cannot get the accommodation cleaned and ready for the next visitor the same day and so we allow an overnight period to get prepared. We hope you agree that this is a preferable option for making your holiday truly relaxing and as stress free as possible.
This year we are introducing a returnable £60 breakage deposit to help ensure that our holiday facilities are looked after and treated with respect by all visitors. We want everything to be of a high quality and in working order for your arrival and we believe this standard holiday requirement will help us ensure this is the case.
In order to cover the costs of running both these holiday venues we need to increase the occupancy levels by making the caravan and house  available for others to rent. These prices are capped at the above rates for our families but the same weeks will be available on the open holiday rental at the standard market rate. It is important that you choose your holiday dates as soon as possible so as to avoid disappointment.
In anticipation of a busy holiday season we are investing in a new and improved online booking system. We are working hard to get this up and running but in the meantime please use the booking calendar if you are a PAMIS family or contact PAMIS to request dates and book your holiday. Contact information for each property can be found below.
We are very fortunate to have two options for family holidays and short breaks. We work hard to offer our PAMIS families a preferential rate. We appreciate flexibility is important and we will try to accommodate all your needs to ensure you have an memorable stay.
Do you have a family member with profound and multiple learning disabilities and would like to register with PAMIS? Contact pamis@dundee.ac.uk or call 01382 385154.
Callum's Caravan
Callum's Caravan is a 2 bedroom static caravan in Haggerston Castle in Northumberland
We are delighted to announce that we now have a new 2 bedroomed caravan at Haggerston which can sleep up to 6 people. It is now in position  and ready for our April visitors. Our previous caravan was fantastic but required some upgrading to bring it up to the standard required for a busy rental market and so it became apparent that the best course of action was to replace it now before the  holiday season commenced.  Our new caravan is fully accessible with a wet room, more space and wide access doors. We have taken our enormous new PVC decking with us to the new caravan which will provide a large combined living space for you and your family. Our new caravan will also be called 'Callum's Caravan' in memory of a wonderful young man who spent many fantastic holidays at this park with his family. It is located a short walk from the facilities and in a quiet and wooded area of the site close to fields and the open countryside.
Why are we investing in this new accommodation? We know from your feedback that you love this park and so do we! The staff here are friendly, helpful and professional. Haven have chosen Haggerston as one of four parks to receive huge investment.
New developments:
NEW – Garden atrium-style entrance – open summer 2019
NEW – Tower bar – open summer 2019
NEW – Cook's Fish and Chips – open March 2019
NEW – Oodles family amusement centre – open summer 2019
NEW – Multi-level indoor soft play area – open summer 2019
NEW – Creative Studio – open summer 2019
Papa John's Pizza and Burger King – open summer 2019
The caravan sleeps 6 and  has a large wheelchair ramp and decking, wide access doors and wet room. As well as the bedrooms there is also a double sofa bed in the living room. The main bedroom has an electric Hi/Lo bed and another single bed. The remaining bedroom is a twin. This accommodation comes with use of 6 Privilege Passes which will give you access into the Owners only areas of the park but also gives you:
15% off purchase (at participating outlets on park)
50% off activities
50% off launderette tokens
access into all park venues
Our caravan will be available for our families at a constant rate during the year* of:
Friday to Sunday (2 nights) : £180.00
Monday to Thursday (3 nights): £245.00
Friday to Thursday (6 nights): £440.00
*Exceptions are the weeks beginning the 17th and 24th of August (peak season) when it will be £790 for 6 nights with no 2 or 3 day breaks available.
If you are registered with PAMIS and wish to make a booking please call Leanne Colston on 01382 581354 or email lcolston001@dundee.ac.uk with the preferred accommodation and dates required.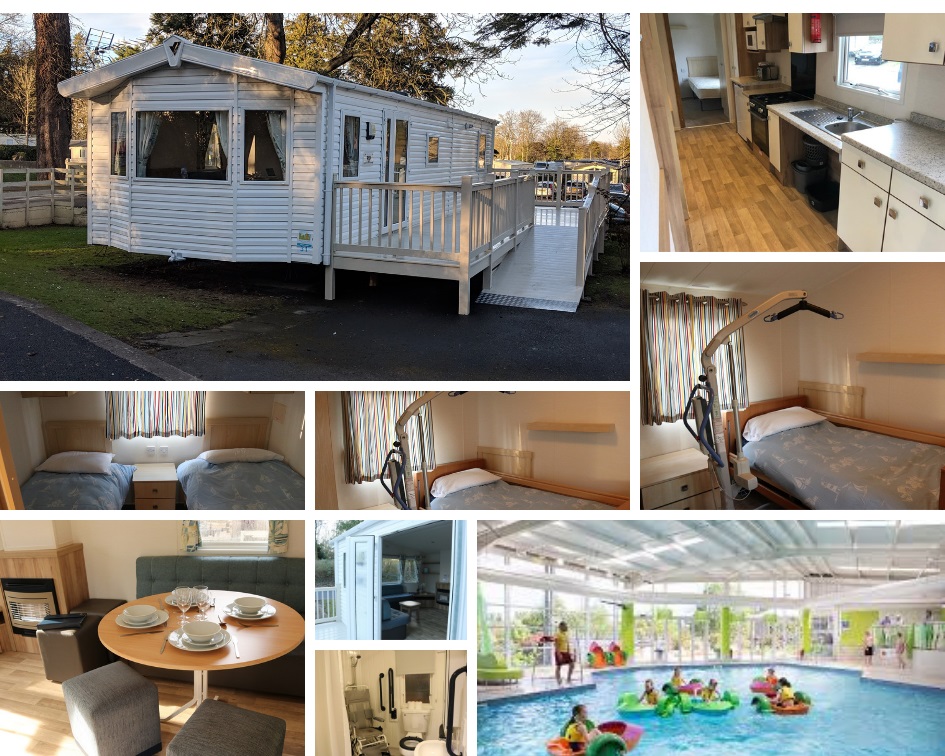 The Coach House, Aberfeldy
The Coach House is a holiday cottage in rural Perthshire which can sleep 8 people. There is one single room downstairs with an electric Hi/Lo bed (ensuite facilities), two double rooms upstairs (one ensuite)and a large family room consisting of twin beds and a queen sized bed at the rear of the house with a Juliet balcony enjoying  views to the surrounding hills. The kitchen/dining room, living room and conservatory areas are large and roomy easily accommodating a wheelchair.
Our Coach House is a large and welcoming home on a quiet residential street in the small town of Aberfeldy with 4 bedrooms that can sleep up to 8 people. Local amenities such as cafes, shops and restaurants are a short walk away. This is a popular holiday destination with a wealth of visitor attractions and beautiful natural surroundings for a perfect family holiday. The house is accessible by a ramp and has a downstairs bedroom with en suite facilities and an electric Hi/Lo bed  We will be investing in some improvements to make the house more accessible and plan to carry out these improvements during the quiet months of January to March 2020 so as not to disrupt the 2019 holiday season. These improvements will include tracking system, wet room and the widening of doors with in the property. Until then we have a mobile hoist and a sit in bath/shower which we understand may not be ideal for all guests.
Friday to Sunday (2 nights): £230.00
Monday to Thursday (3 nights): £345.00
Friday to Thursday (6 nights):£590.00
As part of the agreement to use the Coach House for accessible holidays we can also rent this out to non-PAMIS carers who need accessible holiday accommodation for a family member with a disability. The rates are below:
Friday to Sunday (2 nights): £330.00
Monday to Thursday (3 nights): £495
Friday to Thursday (6 nights): £840
If you are registered with PAMIS and wish to make a booking please call Leanne Colston on 01382 581354 or email lcolston001@dundee.ac.uk with the preferred accommodation and dates required.